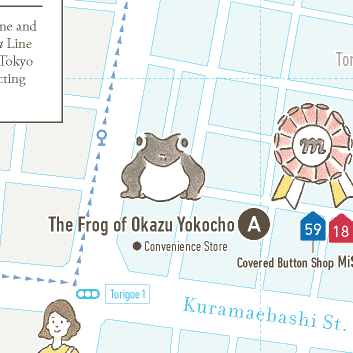 (A) The Frog of Okazu Yokocho
鳥越一丁目 MAP C3
Popular with local people and visitors alike, this frog statue is located on a side road of the Okazu Yokocho shopping street. Who installed the frog and why is unknown. It is marked as "The Frog Daimyojin" ("The Great God of Frogs") on Google Maps.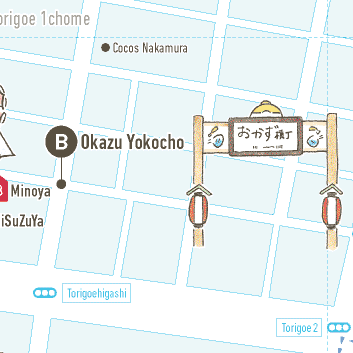 (B) Okazu Yokocho
鳥越一丁目 MAP C3 D3 E3
Okazu Yokochois the commonly-used name for the shopping street along Torigoe-hondori. Some 230 meters long, it's lined with shops selling prepared foods and groceries and with restaurants and drinking establishments. Craft workshops and a special market, known as "Monozukuri Yokocho,"are held here once a month.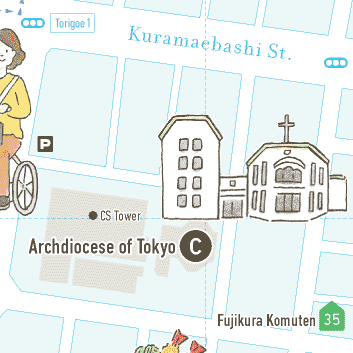 (C) Archdiocese of Tokyo
浅草橋五丁目 MAP C4
This Catholic church was one of the six main churches in Tokyo throughout the Meijiera (1868-1912). There is an "Asakusa-torigoe Martyrs' Monument," describing how many Christians were martyred in the Edoera at Asakusa-Torigoe execution ground, about 500 meters east of this church.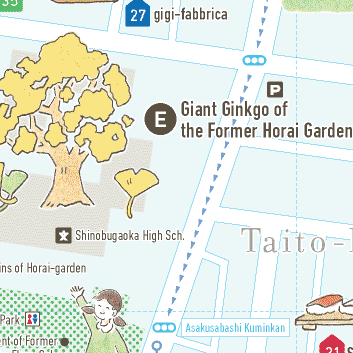 (E) Giant Ginkgo of the Former Horai Garden
浅草橋五丁目 MAP D4
The former Horai Garden was one of the outstanding gardens built in the Edoera by the celebrated gardener Kobori Enshu within the grounds of the mansion of Hirado Hanshu Matsuura, a feudal lord. Unfortunately, in 1923 it was destroyed in the Great Kanto Earthquake; a part of the pond and a giant ginkgo tree are all that remains.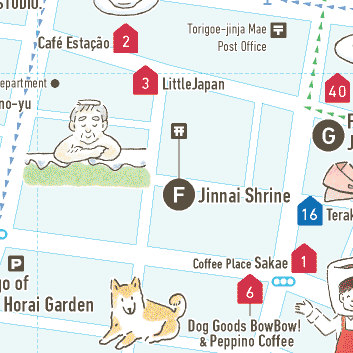 (F) Jinnai Shrine
浅草橋三丁目 MAP E4
This shrine, also known as "Jinnai Reijin" ("The Holy Spirit of Jinnai"), was built in the early Edo era (1600-1690). Kosaka Jinnai was the son of a retainer of the Takeda clan, and he learned sword-fighting skills from the master swordsman Miyamoto Musashi. He was eventually arrested by the shogunate.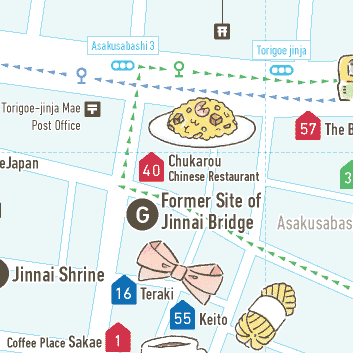 (G) Former Site of Jinnai Bridge
浅草橋三丁目 MAP E4
From the Edo era to the Taisho era (-1920) there was a bridge across the Torigoe River, which ran parallel to Kuramaebashi-dori. The bridge was named after the nearby Jinnai Shrine. Neither the bridge nor the river exists today; only this monument remains.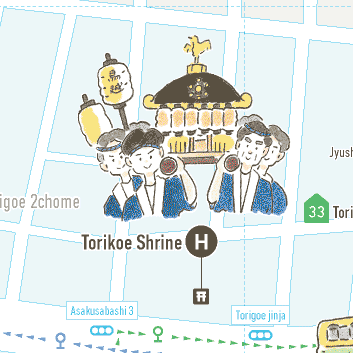 (H) Torikoe Shrine
鳥越二丁目 MAP E3
This shrine's mikoshi(a portable shrine used in processions and festivals) is known as the heaviest in Tokyo. It is called "Senkan-mikoshi," meaning that it weighs four tons. The parade held in June is a magnificent sight as it proceeds through the town. Tens of thousands of people attend this festival.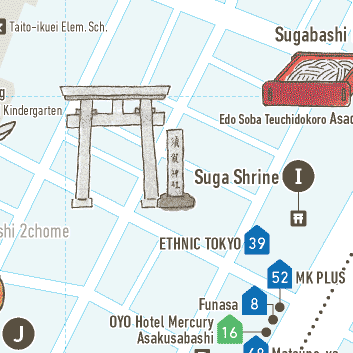 (I) Suga Shrine
浅草橋二丁目 MAP F5
Nobody knows for certain when Suga Shrine was built, but tradition says that it dates back to 601, when local people were praying for relief from an epidemic in Toshima County, Musashi Province.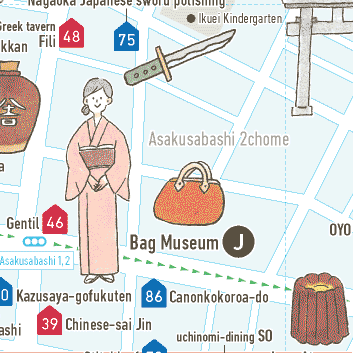 (J) Bag Museum
浅草橋二丁目 MAP E5
The Bag Museum has a collection of around 3,000 bags used by ethnic groups from over 50 countries. Also on display are selected items from the museum's collection of Edoera cigar boxes and pill boxes. Admission is free, but an appointment to visit must be made in advance; call 03-3862-2111.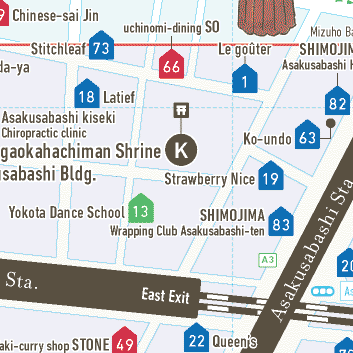 (K) Ichogaokahachiman Shrine
浅草橋一丁目 MAP E6
This shrine is believed to have been established by Minamoto no Yoriyoshi and Minamoto no Yoshiie, who stopped here on their way to a battle in Oshu. They planted ginkgo trees on top of a hill to pray for victory and built this shrine in 1062 while returning home after winning the battle.
。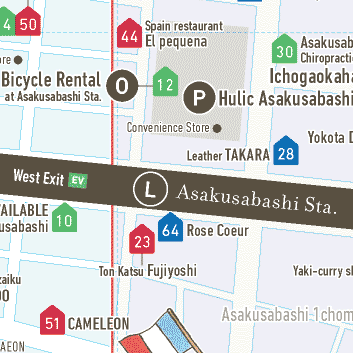 (L) Asakusabashi Station
浅草橋一丁目 MAP D6 E6
Asakusabashi Station is where the JR Sobu Line and the Toei Asakusa Line meet. The Toei Asakusa Line was the first subway line constructed by the Tokyo Metro. It opened in December, 1960, connecting Oshiage and Asakusabashi (3.2 km).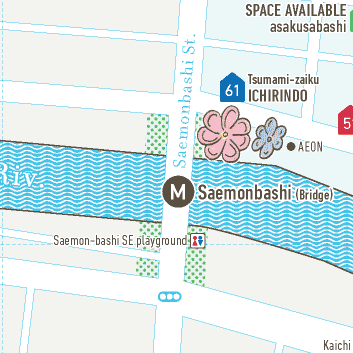 (M) Saemonbashi(Bridge)
浅草橋一丁目 MAP D6
Historically this area was called Saemon River bank, and the district around the north side of the bridge was called Asakusa-Saemon-cho until 1963. The center of this bridge is where Taito-ku, Chiyoda-ku, and Chuo-ku come together.
(N) Former Site of Asakusa Mitsuke
浅草橋一丁目 MAP E7
Asakusa Mitsuke was one of the 36 gates built to guard Edo Castle. Soldiers here checked visitors to Senso-ji temple and travelers on the Oshu Highway. The gate is now gone; only a monument remains at the foot of Asakusabashi bridge.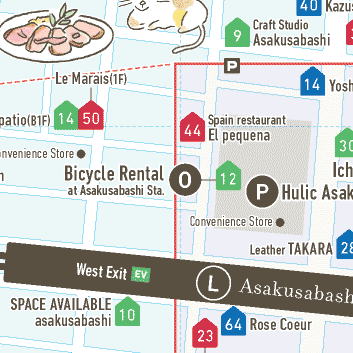 (O) Bicycle Rentalat Asakusabashi Station
浅草橋一丁目 MAP E6
With a bike you can visit various shops in Asakusabashi, Yanagibashi, Kuramae, and Torigoe and even visit Asakusa at the same time. Rental costs ¥400 per day (or ¥500 when registering for the first time).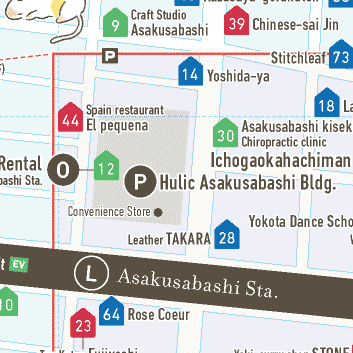 (P) Hulic Asakusabashi Building
浅草橋一丁目 MAP E6
Built on the site of the former Fukui Junior High School. This area was called Fukui-cho, named after the former mansion of the Echizen-Matsudaira family and of the Fukui domain.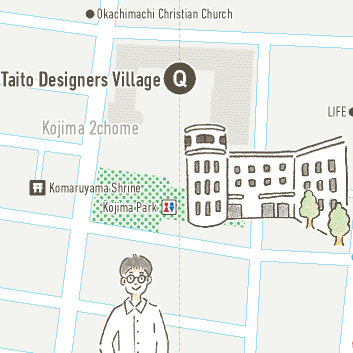 (Q) Taito Designers Village
小島二丁目 MAP D1 E1
Taito Designers Village is established in April 2004 on the site of former Kojima Elem. School. The Village is so called "Desaville" and it is an incubation center for creative people. Public open days are available around the end of May every year.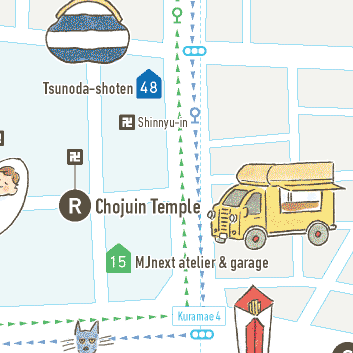 (R) Chojuin Temple
鳥越二丁目 MAP F3
It is said that the founding date of Chojuin is unknown, but it was founded by "暁誉笈縁和尚" (1650). On the last Sunday of every month, kitchen cars gather and the "Temple Marche" is held in the precincts.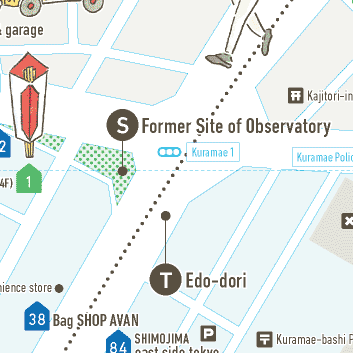 (S) Former Site of Observatory
浅草橋三丁目 MAP G4
In the late Edo era, the observatory of the shogunate was located one block west of this place. This observatory was used for reforming the calendar to the Kanseireki (Kansei calendar) in 1798. It was designed by Takahashi Yoshitoki, whose students included Ino Tadataka, who completed a detailed map of Japan.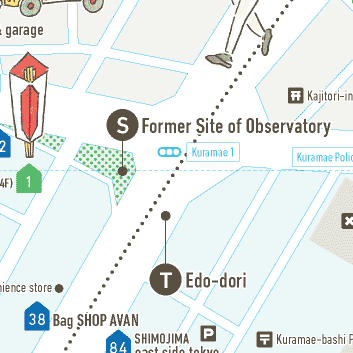 (T) Edo-dori
MAP E6・7 F5・6 F4 G3・4 H2・3 I1・2
Edo-dori runs from Marunouchi 1chome(the NE of Tokyo Sta.) through Asakusabashi, to the Kototoibashi (the north of Senso-ji). Historically, there are number of gift shops along the Edo-dori for the visitor of Senso-ji. This is the reason why many doll, toy, and firework shops open along Edo-dori in Asakusabashi and Kuramae today.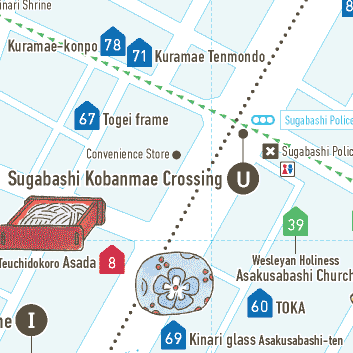 (U) Sugabashi Kobanmae Crossing
柳橋二丁目 MAP G4
Sugabashi was the name of a bridge in the Meiji era which crossed the Torigoe River, which runs across Edo-dori and ends at the Sumida River. In the Edo era, the bridge was named Torigoebashi.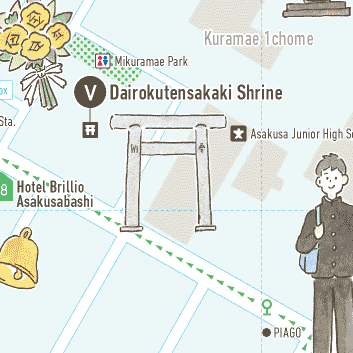 (V) Dairokutensakaki Shrine
蔵前一丁目 MAP G4
Originally located on Asakusa-Torigoe Hill, this shrine was part of "Torigoe Three Myojin," together with Torigoe Shrine and Atsuda Shrine. It was moved to its current location, on the site of the former Asakusa Library, in 1928.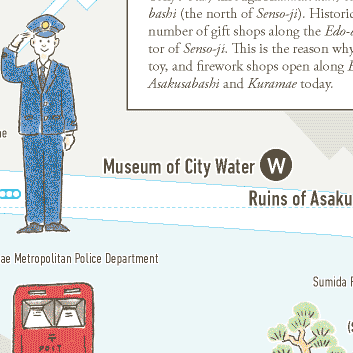 (W) Museum of City Water
蔵前二丁目 MAP H3
This museum focuses on the area's ground water management system. It's the only place within Tokyo's 23 wards where visitors can observe underground sewer pipes in operation. Used iron manhole covers are also displayed. Admission is free, but appointments to visit must be made in advance.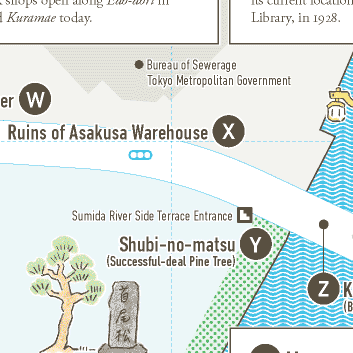 (X) Ruins of Asakusa Warehouse
蔵前二丁目 MAP I3
The Kuramae district is named after rice storehouses (kura)authorized by the Edoshogunate, which were used for storing rice collected from the shogun's land. Asakusa okura covers some 120,000 square meters.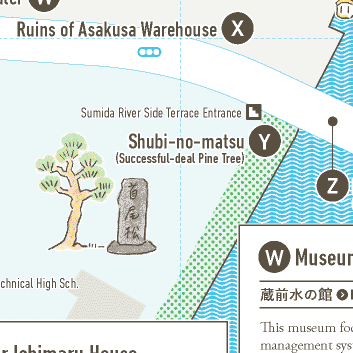 (Y) Shubi-no-matsu (Successful-deal Pine Tree)
蔵前一丁目 MAP I4
There were a number of famous pine trees in Edo, but almost all of them have since disappeared. Shubi-no-matsu appears in Ukiyo-e(woodblock prints) by such well-known artists as Utagawa Kunisada. The original tree died around the 1770s, and today's tree is known as the seventh tree.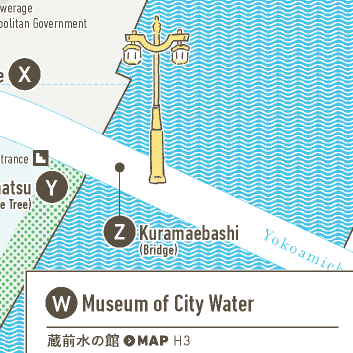 (Z) Kuramaebashi (Bridge)
蔵前一丁目 MAP I4
The bridge called Kuramaebashiis supported by three continuous arch structures and connects Kuramae (Taito-ku) and Yokoami (Sumida-ku) districts. Completed in 1927, it has a length of 173 m. There was no bridge here in the Edo era, and in the Meiji era only a ferry was available, a little downstream of where the bridge stands today.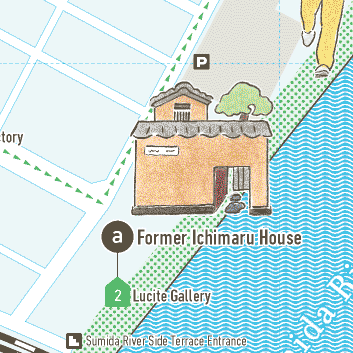 (a) Former Ichimaru House
柳橋一丁目 MAP G6
Ichimaru(1906-1997) was a singer of Edo-kouta (Edo era ballads accompanied by samisen) during the Showaera. Ichimaru's house was renovated into an antique gallery and café in 2001.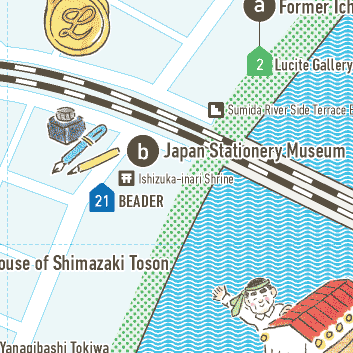 (b) Japan Stationery Museum
柳橋一丁目 MAP G6
This museum's collection includes pencils used by Tokugawa Ieyasu (1543-1616), and Date Masamune (1567-1636), as well as many historic pieces of stationery. Visitors can learn about the evolution of stationery. Admission is free, but the museum is closed on Saturdays and Sundays.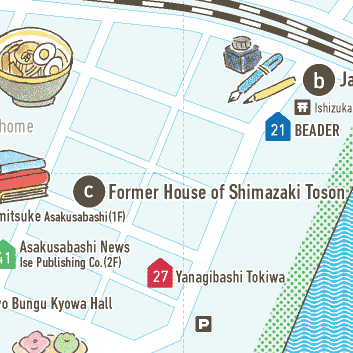 (c) Former House of Shimazaki Toson
柳橋一丁目 MAP F7
A Japanese author active in the Meiji era, Shimazaki Toson lived in Yanagibashi from 1906 to 1913. He wrote an essay titled "Yanagibashi Sketch" and used it as part of his novel "Shinsei."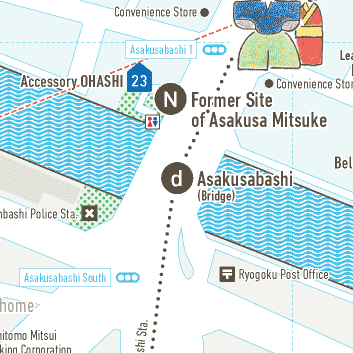 (d) Asakusabashi (Bridge)
浅草橋一丁目 MAP E7
Since the early Edo era, Asakusabashi has been one of the most important strategic points along the Oshu Highway. e main street going through Asakusabashi is called Edo-dori, and it is used as a part of the race course for the Tokyo Marathon today.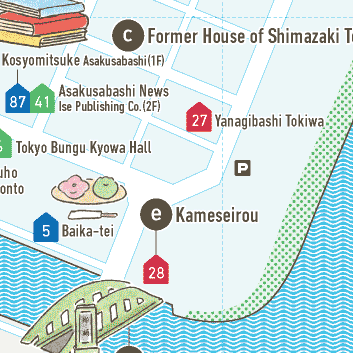 (e) Kameseirou
柳橋一丁目 MAP F7
Kameseirou is a long-established Edomae restaurant, maintaining its taste and tradition for 150 years. It's perhaps the only place to preserve the atmosphere of the time when Yanagibashi was a geisha district.
。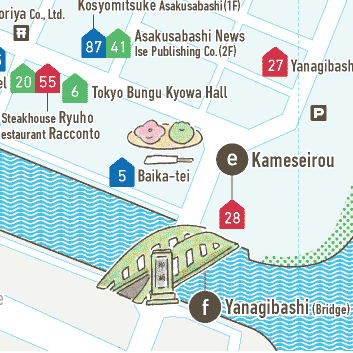 (f) Yanagibashi (Bridge)
柳橋一丁目 MAP F7
Yanagibashi takes its name from the yanagi (willow trees) which stood near the bridge. In the Edo era, Yanagibashi became a popular boating place. Yanagibashi was known as a geisha district until the levee along the Sumida River was constructed in 1950.